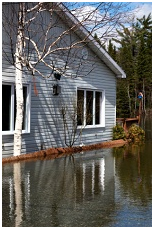 This has been a hard week for residents of Fairfax, Vienna, Reston and all owners of Northern Virginia real estate.
Many of us are recovering from the damage and/or inconvenience of Hurricane Sandy. I hope that you, your family and friends have weathered the storm safely and that you have the support and resources to get "back to normal". That's what we are trying to do here at the Roche household.
For more local information from Fairfax County government on Hurricane Sandy recovery, visit the Fairfax County Emergency Information blog.
Superstorm Sandy did not create as much of a flooding issue for us as it did for our northern neighbors in New Jersey and New York, but it is always good to understand what to do in case of water damage to your home, and how to file claims on your homeowners insurance.
A number of things can cause water damage to a home and it's important to know whether they're covered by your insurance policy. Some water damage may be covered and other may not be. In general, you need an incident to invoke coverage rather than something gradual due to lack of regular home maintenance.
However, some incidents are specifically exempt from homeowner policies, and floods are one of them. A flood can be described as rising water due to overflow of inland or tidal waters or unusual and rapid accumulation or runoff of surface water from any source.
Homes that are financed with mortgages from federally regulated or insured lenders, and are in designated high-risk flood areas are required to have flood insurance.
Even if your home is not determined to be in a flood zone, you could be affected by flood damage. Review your policy about water damage and call your insurance agent to get a better understanding. Ask if you need to purchase additional coverage or separate flood insurance along with other questions about flood coverage.
Flood insurance can be purchased for the building as well its contents. The average flood insurance policy costs about $600 per year. For more information, see the National Flood Insurance Program.
A few minutes of review could save you thousands on your Fairfax County, Virginia real estate in the future!
If you are thinking of selling, learn how the nation's Top Realtors sell their personal family homes for more money than their neighbors. Get my Free CD, or Free Report of the 10 Best 'Insider' Home Selling Strategies that I extracted from over 8 years on my Real Estate Radio Show interviewing the Industry's Top Experts.
If you are thinking of buying, find out how the Industry 'Insiders' Save $25,000 – $50,000 on their personal home purchases, and how you can too. Get my Free CD or Free Report Top 10 Insider Home Buying Secrets of the Wealthy. I use these same proven strategies every day.