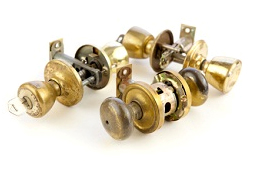 Are you shopping the Fairfax county homes for sale in search of a new home? Or are you a current owner of Northern Virginia real estate? Here's just another little safety tip for new and seasoned home owners…Change your locks!
There are times when you need to change the locks on your home to protect your family and possessions. The most important times are when you move into a new home; when keys are lost, stolen or unreturned; or a cleaning or other service provider hasn't returned the key.
You could replace the entire lockset, which would give you a totally new mechanism that should work better. If you use the same manufacturer, you can probably avoid any carpentry changes to the door. You can order the locks online and have them all work with the same key at no extra charge.
Another alternative is to have a locksmith rekey the current lockset. The locksmith can also easily make all of the locks work with the same key. Compare the cost and decide which would be a better expenditure. If the lock change needs to happen quickly for safety reasons, a locksmith may be your best bet.
While you're considering your security, a key safe might be a very convenient addition. The cost is reasonable and you can attach it to your exterior wall. Generally, they're combination locks that would allow you access if you or another family member forgot their key. It's also convenient to give a house keeper the combination and can be easily changed if necessary. There is no need to have multiple keys floating around with service providers.
If you are thinking of selling, learn how the nation's Top Realtors sell their personal family homes for more money than their neighbors. Get my Free CD, or Free Report of the 10 Best 'Insider' Home Selling Strategies that I extracted from over 8 years on my Real Estate Radio Show interviewing the Industry's Top Experts.
If you are thinking of buying, find out how the Industry 'Insiders' Save $25,000 – $50,000 on their personal home purchases, and how you can too. Get my Free CD or Free Report Top 10 Insider Home Buying Secrets of the Wealthy. I use these same proven strategies every day.