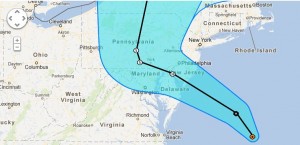 Hello, friends. As you know, Fairfax and surrounding Northern Virginia areas are now being affected by the late season hurricane Sandy. Many of you may be in an area of declared state of emergency, the rain and wind have begun their work, and coastal flooding is imminent. I hope that everyone can stay safe and dry! Here are a few last minute storm tips that you can use as the rains continue to fall through the day.
During heavy storms and hurricanes, the first thought after our family's safety is often the ability of our home to withstand high winds and water. This weekend, many of you may have been boarding windows, clearing gutters and bringing in the loose furniture from the porch. At this point, if you don't have windows protected by strong plywood or shutters, the best thing to do is to stay in an inside room or basement that has no windows.
The FEMA website has the best information on what to do before, during and after a hurricane. At this point in time, some important checklist points recommended on this site are to be sure to turn off all propane tanks and fill all bathtubs and large containers with water to have an emergency supply. They also recommend closing all interior doors.
If you find yourself at home right now, it's a great time to get together a "survival kit" with nonperishable food, water and a first aid kit. Also make yourself a waterproof bag of important documents (such as your homeowner's policy), prescription drugs, battery-powered radio, batteries, glasses, and any other necessities that would be difficult to replace. This is also a good time to discuss with your family an emergency evacuation plan, and have an agreed upon place (or two) to meet in case you are separated.
Here are links to a few other good websites that have more useful ideas and checklists:
FEMA Basic Disaster Supply List
East Coast Florida Hurricane Preparation – House
Stay warm, stay safe and stay inside as you ride out "Frankenstorm Sandy"!