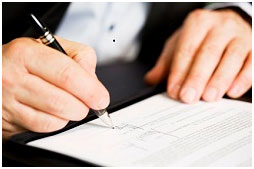 If you have been shopping for Fairfax, Va real estate recently, you may notice prices are rising again, and competition for homes has started heating up. A "sellers market" may be where you find yourself as a buyer if you are looking at homes for sale in Northern Virginia.
As the market shifts from a buyer's market, it's good to know how to improve your chances to have the seller accept your offer. The secret to finding the best home at the best price is knowing how to present your offer in this changing market.
Once you find the home you love, don't waste time; write an offer and submit it as quickly as possible. Competing with another buyer does happen frequently. Multiple offers are a seller's advantage, but you can level the playing field with these useful tips:
Realistic offer – don't let the seller think you are trying to "steal" the property. Submit comparable sales that justify your offer.
Pre-approval letter – alleviate the seller's biggest concern that an unqualified buyer will unnecessarily take the home off the market and the seller will lose other opportunities.
More earnest money – good faith to show you're serious, and makes the seller feel more confident that the contract will actually close.
Minimize contingencies – from a seller's standpoint, each contingency is one more reason why the sale won't go through. Multiple contingencies lessens the seller's willingness, because they feel the home is "off the market" with less certainty of closing.
Shorten inspection period – your agent can help you set a reasonable date, but it helps if you let the seller know you're willing to close prior to that if possible.
Write a personal letter to the seller telling them why you want their home – this emotional connection to the seller may make the difference in you getting the home.
A seller wants to feel confident that the offer they accept will actually close so they can plan for their next move. Following these tips can positively affect negotiations and help you present an offer that is most likely to be accepted. I can assist you with the details of purchasing Fairfax, VA real estate.
If you are thinking of selling, learn how the nation's Top Realtors sell their personal family homes for more money than their neighbors. Get my Free CD, or Free Report of the 10 Best 'Insider' Home Selling Strategies that I extracted from over 8 years on my Real Estate Radio Show interviewing the Industry's Top Experts.
If you are thinking of buying, find out how the Industry 'Insiders' Save $25,000 – $50,000 on their personal home purchases, and how you can too. Get my Free CD or Free Report Top 10 Insider Home Buying Secrets of the Wealthy. I use these same proven strategies every day.