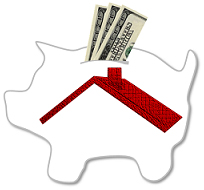 Home buyers, here's yet another great way to save money on your purchase of Northern Virginia real estate: Assume an existing FHA or VA loan. The recent low interest rates on FHA and VA loans make assumption an attractive choice for many buyers who meet the qualifications.
If a home you are interested in is currently financed with an assumable loan, you may be able to take over that loan and enjoy the existing low interest rate. Buyer qualifications include maintaining the home as your primary residence, have a minimum 600 credit score, and a total debt to income ratio that doesn't exceed 41% of monthly gross income. There may be other income and credit requirements as well.
Assuming the low loan interest rate will allow for lower monthly payments and quicker equity built up in the home. An extra benefit is that the closing costs on an assumption are much less than a new loan. Sellers with a low interest rate assumable mortgage can advertise this fact as another special advantage of purchasing their home for sale in Northern Virginia.
If you are thinking of selling, learn how the nation's Top Realtors sell their personal family homes for more money than their neighbors. Get my Free CD, or Free Report of the 10 Best 'Insider' Home Selling Strategies that I extracted from over 8 years on my Real Estate Radio Show interviewing the Industry's Top Experts.
If you are thinking of buying, find out how the Industry 'Insiders' Save $25,000 – $50,000 on their personal home purchases, and how you can too. Get my Free CD or Free Report Top 10 Insider Home Buying Secrets of the Wealthy. I use these same proven strategies every day.