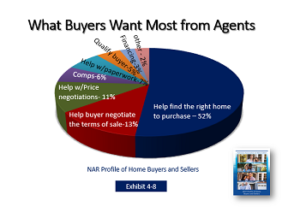 Some potential home buyers determine which agent they will use when they start looking for their dream home. They believe that finding the home is the most critical part. While finding a home is critical, the most important part is getting good representation. Finding the right agent requires more skills then just being the agent attached to a home for sale. Remember that agent represents the seller and not you.
In NAR's Profile of Home Buyers and Sellers report, it states that 52 percent of buyers do want help when buying a home. In the past, home buyers did not have access to homes for sale on the internet, but times have changed.
Twenty-five percent of buyers said they wanted help in negotiating price and terms of sale. Buyers do not want to pay more than necessary and sale terms can be just as important as price.
After negotiations, needing assistance with financing and paperwork is the next largest area. Even if you have been through the buying process previously, rules change every year within the different real estate boards and every few years nationally.
Price paid for the home and the financing received is part of what determines cost of housing. Having a Realtor® who is a member of the National Association of Realtors (NAR) can give you an advantage over other buyers. These agents have access to more training and education and are more knowledgeable in the areas discussed above.
Question the agent who represents you as to what tools and experience they have in these areas.
Want some Insider Information on Fairfax VA homes for sale? Get a FREE Market Snapshot Report of Your Northern Virginia Home's Value, or  Search All Northern Virginia Homes For Sale. Put that data you need at the tips of your fingers!