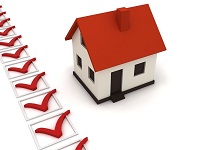 First impressions of a home go a long way in determining how quickly your home will sell.  Your major role as a seller will be to make your home as attractive as possible to potential buyers – you need to be viewing your home through the eyes of potential buyers.  With some time, effort and limited financial investment, you can grab the competitive edge you need to sell your home at the price you want.
Thoroughly clean your home.  Wash the windows, clean the carpets and the walls.  Make sure you clean the baseboards, organize closets and drawers, have sparkling bathrooms, kitchen and all its appliances are clean and tidy – to include cupboards.
Make your house appear roomier by picking up clutter, toys, shoes etc.  Remove a lot of personal items so the potential buyers can see themselves in the home – not just you.  Removing the clutter should extend to closets, cabinets, garage etc.
Make needed repairs.  The buyers need to feel like the whole house is in good repair, so door handles and locks should fit firmly, doors should close solidly, faucets should be attached with water running freely, all light switches and electrical outlets should be in working order.
Dark homes show badly.  Make sure there is as much natural light as possible – have curtains, shades and blinds open.  Make sure lamps are on and the lampshades are straight.
Make sure bad odors have been eliminated.  No pet or food odors.
Curb appeal.  When buyers pull up to your home, you want to make sure the front of the house is appealing enough for them to get out of the car!  Additionally, most potential buyers start their search for Fairfax VA homes for sale on the internet.  Make your home stand out in the pictures with a lush and inviting front yard.  Make sure your grass is cut, leaves are raked, flower beds weeded, dead branches removed, toys put away, torn screens replaced, front door freshly painted.
Buyers are looking for Fairfax VA Real Estate they can see themselves living in.  If you follow the tips above, you will position your home to sell quickly.
For a FREE report on CD of the 10 Best 'Insider' Home Selling Strategies that I extracted from over 8 years on my Real Estate Radio Show interviewing the Industry's Top Experts.
Get my FREE report on CD of the Top 10 Insider Home Buying Secrets of the Wealthy on How to Save $25,000 to $50,000. We use these same proven strategies every day.