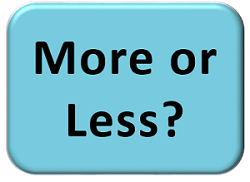 A higher house payment doesn't mean your home is more valuable. It means that you got a mortgage loan rate higher than it has to be.
If you are looking to lower your monthly mortgage payment then an adjustable rate mortgage can do that for you only factor to consider is how long are you staying in the home. There are many different types of ARM programs available but I am going to assume a 30-year mortgage with a fixed rate for five years and which can adjust every year after those five years based on independent indexes.
Features of an FHA ARM is that they limit the rate change to 1 percent per period and add a lifetime cap of 5 percent over the initial borrowing rate.
My example below shows a comparison where the adjustable payment is $153.48 lower the first 5 years or first 60 payments. An interesting homeowner fact is that lower interest rate mortgage loans amortize faster than a higher rate mortgage loan. In my example, at the end of the first 5 years, the ARM has a lower principal balance by $4,239.
Further, your total savings on this ARM after the first period is $13,477. A breakeven point for this ARM is about 8.5 years, so if you as a borrower felt certain you would be selling the home by then, you would have a lower cost of housing even if your mortgage loan rate jumped up to the maximum of 1 percent each adjustment period.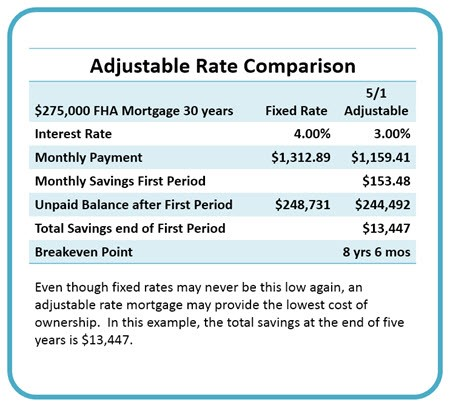 To assist you in determining whether you pay more or less, always consult with a trusted mortgage professional and your Realtor® to learn the advantages and disadvantages of different programs.
In the meantime, I can send you a list of Fairfax homes for sale that fit an ARM scenario perfectly. I can also set up with a Listingbook account that will give you 'Insider' access to my MLS system. You can save searches and tweak your parameters at any time. Search like a pro!