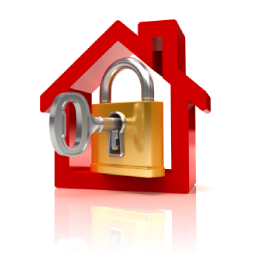 Any owner of Northern Virginia real estate knows the importance of keeping a safe and secure home to protect our families and our investment. It is important to periodically pay attention to the items on the below list because things change over time.
A quick once-over of the items on this list may improve the safety and security of your home and could protect your family and friends. If you currently have a house for sale in Northern Virginia, you can assure the safety of buyers and agents visiting your home as well.
Security
Does each exterior door have a deadbolt lock?
Does the lock on each window work properly?
Have you added pins or clips to your windows for additional security?
Do you have poles or broom sticks in the track of windows and sliding glass doors?
Do you have security company labels or signs displayed prominently on the property?
Do you have an alarm system? Is the system monitored?
Do you have a dog that barks when strangers approach the home?
Are emergency numbers posted near all telephones?
Fire
Do you have smoke detectors near all bedrooms and on each floor?
Do you check detector batteries monthly and change them annually?
Do you have two carbon monoxide detectors?
Do you have an escape ladder for upper floors?
Do you have fire extinguishers near exits and in the kitchen?
Do you have an emergency escape plan and do you practice with your family?
Are any outlets or switches warm to the touch?
Are there any unused extension cords plugged into outlets?
Are kitchen ventilation systems working properly?
Is the dryer ventilated to the outside and do you clean the exhaust hose?
Is the furnace cleaned and serviced on a yearly basis?
Is the space around the hot water heater clear of combustible materials?
Falls
Are all electrical and phone cords covered or out of the flow of traffic?
Are rugs and runners slip resistant?
Is your step-stool sturdy and in good condition?
Are stairs clear of objects that could cause a fall?
Are all entrance ways, exits, halls and walks well lit?
Do you have flashlights or emergency lighting for power outages?
Do bath tubs and showers have non-skid strips or suction mats in them?
Are outdoor walkways free of roots, ivy or toys?
Other
Do you keep drugs and medicines out of reach and sight of small children?
Are interior doors designed so small children cannot lock themselves in rooms?
Are pool and outdoor play areas fenced to keep small children in and uninvited guests out?
Are firearms kept locked and out of reach and sight of children?
Is a well-stocked first aid kit available for emergencies?
Is there one member of your family trained in first aid, CPR and the Heimlich maneuver?
Do you have charts or directions on these techniques accessible for reference?
Monitoring this list not only provides your family and visitors a safe environment, but also increases the value and demand for your Northern Virginia home and the surrounding neighborhood.
If you are thinking of selling, learn how the nation's Top Realtors sell their personal family homes for more money than their neighbors. Get my Free CD, or Free Report of the 10 Best 'Insider' Home Selling Strategies that I extracted from over 8 years on my Real Estate Radio Show interviewing the Industry's Top Experts.
If you are thinking of buying, find out how the Industry 'Insiders' Save $25,000 – $50,000 on their personal home purchases, and how you can too. Get my Free CD or Free Report Top 10 Insider Home Buying Secrets of the Wealthy. I use these same proven strategies every day.