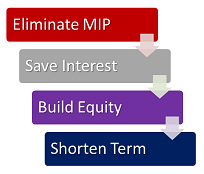 Here's a tip for potential FHA buyers of Northern Virginia homes for sale:  Paying extra principal on your mortgage loan can help you remove the required monthly mortgage interest premium (MIP) faster, which will lower your monthly loan payment, reduce your overall interest, and build equity faster on your home.
FHA loans require mortgage insurance premium to cover a possible loss to the lender if the property has to be foreclosed and sold. The premium is sizeable and does nothing to help build equity in your home.  Eliminating the MIP would reduce the payment considerably, and help you keep more cash in your pocket.
FHA loans require that MIP remain in effect for five years. But after that time, the MIP requirement will be released if you have paid down your loan to at least 78% of the original purchase price. With that extra payment removed, your monthly payment will go down.  Since amortization is affected by interest rates, the normal time to reach this 78% point could be from 9 to 12 years at today's interest rates.
In the example below, the MIP would be released in 9 years 6 months with normal payments. An extra $100 a month would allow the borrower to reach the release point in 7 years 1 month. To reach the release point in the minimum five years, the borrower would have to make an extra $268.04 per month principal contribution.
Releasing the MIP in this example would save the borrower $177.67 per month. The borrower would also save interest, build equity and shorten the term of their mortgage. Once the MIP is released, the borrower could continue the same payment schedule to further accelerate the debt reduction.
To make some projections on your mortgage, click here.

I have many more money saving strategies for home owners. Visit my website to find out other ways to make the most out of your Northern Virginia real estate investment.
If you are thinking of selling, learn how the nation's Top Realtors sell their personal family homes for more money than their neighbors. Get my Free CD, or Free Report of the 10 Best 'Insider' Home Selling Strategies that I extracted from over 8 years on my Real Estate Radio Show interviewing the Industry's Top Experts.
If you are thinking of buying, find out how the Industry 'Insiders' Save $25,000 – $50,000 on their personal home purchases, and how you can too. Get my Free CD or Free Report Top 10 Insider Home Buying Secrets of the Wealthy. I use these same proven strategies every day.