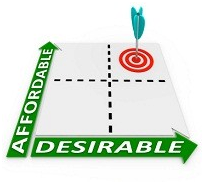 There is an interesting trend occurring this year – in Northern Virginia real estate and real estate markets throughout the country – and buyers need to be aware. There may be an explanation for why there is still not a huge sense of urgency to purchase a home now, even though mortgage rates remain extraordinarily low.
The most recent National Association of REALTORS® Housing Affordability Index shows that mortgage rates have fallen from 4.37% in January to 3.81% for June. However, it also explains that a typical mortgage payment as a percentage of income has risen from 12.1% to 13.9%, which means that buyers have to spend more of their income on a home.
The reason for the higher mortgage debt-to-income ratio is that the median price of homes nationally has increased from $154,600 in January to $190,100 in June – a 23% jump. The two major components of housing affordability are the price of the homes and the mortgage rates a buyer must pay. For many buyers, the recent economic hit to their wallets has affected their overall income enough that even the low interest rates are not enticing enough to cover the latest increase in housing prices.
Although low mortgage interest rates alone are not enough to determine housing affordability, it still is important to the mix. Be aware that during the past few weeks, which are not included in the report statistics; interest rates have been inching their way back up. So if you are a buyer or investor considering a purchase of Northern Virginia real estate, this may be the time to act.
If you are thinking of selling, learn how the nation's Top Realtors sell their personal family homes for more money than their neighbors. Get my Free CD, or Free Report of the 10 Best 'Insider' Home Selling Strategies that I extracted from over 8 years on my Real Estate Radio Show interviewing the Industry's Top Experts.
If you are thinking of buying, find out how the Industry 'Insiders' Save $25,000 – $50,000 on their personal home purchases, and how you can too. Get my Free CD or Free Report Top 10 Insider Home Buying Secrets of the Wealthy. I use these same proven strategies every day.