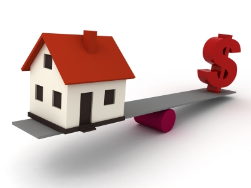 Your home is where you feel safe and secure, share time with friends, raise a family and call it your own. Buying a home is at the top of the largest investments you will make during your lifetime whether you are single or married.
Through the use of borrowed funds, being able to control a large asset (i.e., a home) with a limited amount of cash is called leverage. As it applies to homeowners with Fairfax homes for sale and investors, it is described as using another person's money to increase your personal yield. And having positive leverage will cause your yield to increase as your loan-to-value increases.
You will gain a good rate of return from your closing costs and down payment even if your appreciation is modest at best when combined with your loan amortization.
You build equity in your home as market prices rise and your home value increases and as you pay down your loan balance through an amortization schedule.


This example shows your yield if you consider three percent acquisition costs on a home and a 4.5 percent mortgage loan rate plus your equity at the end of five years. The three down payment percentages will affect your yield using leverage as mentioned above.
Living in a home, either rented or purchased, you will be paying for what you are occupying. The question you need to answer is, are you going to pay for it for yourself or for your landlord? My suggestion is to examine the cost of owning vs. renting.
There are many Fairfax homes for sale at all price levels and all sizes. I can help you with overcoming the indecision of whether to buy or rent by getting you pre-qualified for a mortgage and by helping you find a home that is within your budget. We can examine the time frame in which you could recoup your investment based on market indicators. Call me today at 703.222.6714.