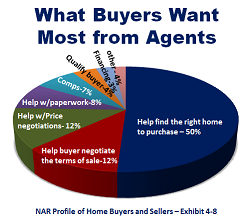 If you are looking to buy a Fairfax home for sale, one of the first things you want to do is create a list of features you want in the home and then share that with your agent. But wait, maybe your first list should be a list of skills you want your agent to possess.
NAR's Profile of Home Buyers and Sellers shows that buyers want the most help in finding the right home. While this is very important to you the buyer, there are some other unique desired areas of expertise you should consider.
Equally important to your buying process are getting help with pricing and terms negotiation as well as professional assistance with comparable sales, completing paperwork, financing and qualifying or pre-qualifying for a mortgage.
In summary, NAR's survey responses suggest that you, the buyer, want assistance in two main areas: finding the right home and negotiating the right price and terms. There are agents who are better equipped with the knowledge and tools needed to assist buyers with negotiations and financial advice.
Finding an professional agent skilled in these areas is invaluable in helping you find your "dream" home, especially when looking at the owner's cost of housing. Having an agent with connections to professionals and allied service providers and the experience to use them is irreplaceable.
When interviewing your agent, as them for a resume concentrating on their experience with price negotiation, financial assistance and dealing with a list of recommended service providers. Ask for references and permission to speak with past clients on these subjects. Your "dream" agent should have these resources available upon request.
As a possible buyer looking at Fairfax homes for sale, allow me to use my experience in these areas to guide you through the buying process and get you a "dream" home not only at the right price and terms, but with your most desired features too!