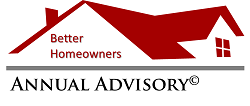 George W. Bush encouraged getting regular checkups after his recent heart surgery in which an issue with his heart was found during aI Suggest Regular Checkupsn annual physical.
Consider doing an annual homeowner advisory checkup each year. This could benefit your finances as well as your peace of mind. Is your home any less important than your car or heating and cooling system?
Consider the following elements:
Know your home's value. Obtain a list of homes for sale in your area and a list of homes that have recently sold.
Reduce your property taxes. Compare the assessed value of your home to the fair market value. If the difference is large enough, you may request a reassessment of your property by your tax assessor.
Did you refinance? If you refinanced in recent years, do you plan to stay in your home long enough to recapture that cost?
Reduce your mortgage debt. Consider using low-earning cash reserves that you won't need in the near future to reduce your mortgage principal. This will save you in interest payments over the rest of the term of the loan.
Invest in rental homes. Consider investing in rental property in nice neighborhoods. Thus increasing your yields when sold and avoiding the stock market volatility.
Professional Recommendations. Find a source you trust and seek out recommended repairs from local repairmen or service providers. Keeping up with regular maintenance will add value to your home.
My goal is to help you be a better homeowner and create a long-term relationship. I would like to be your "go to" agent for all your real estate questions. I want to help you when you buy and/or sell and all the time in between those transactions.
I hope that by providing you concrete, consumer-based information on home ownership regularly via e-mail and social networking that it helps you be a better more informed homeowner. I would like to be your one-stop real estate professional for life.
I am available for calls anytime you or your friends need advice. I believe knowing where to find answers is as important as the answer itself. I can provide you more information on the items mentioned above, just contact me. Informed homeowners with Fairfax homes for sale have the knowledge to make better decisions on the sale of their homes.