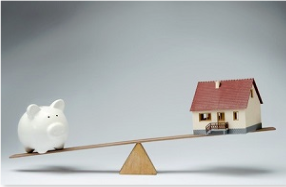 Leverage can give you an advantage whether you are lifting a heavy object or happen to be building up equity in a home. On a home, your loan-to-value mortgage allows you greater profits than just recovering your cash down payment.
You can purchase a $250,000 home with an FHA loan making a 3.5 percent down payment of $8,750. Assuming the home appreciates at 2 percent over the first year, after seven years your equity would grow to $75,920 when we factor in loan amortization and home appreciation. This investment gives you a remarkable 36.2 percent return rate.
Experts estimate that homeowners have 45 times higher net worth than renters. Obviously because they own a home. This puts them at a distinct advantage. The leverage of controlling a much larger asset with just a small down payment gives a homeowner a huge rate of return when compared to the initial down payment.
Another part of this equation is the forced savings that happens as a homeowner pays down their mortgage. With a portion of the monthly payment going toward the principle the loan will be fully paid at the end of a 30-year term. The amortization that happens in turn increases the owner's equity in the home.
For buyers who can make a down payment and have good credit, buying a home can help to stabilize their finances. While you could research this on the internet, nothing beats getting a face-to-face meeting with a trusted professional with experience who can advise you about your situation.
Want some Insider Information on Fairfax VA homes for sale? Get a FREE Market Snapshot Report of Your Northern Virginia Home's Value, or get a FREE Listingbook Account so you can Search All Northern Virginia Homes For Sale just like a Realtor. Put that data you need at the tips of your fingers!