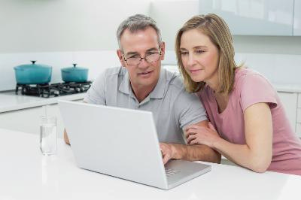 Today there is a real chance that if you ask a real estate agent if they have sold a home to a buyer who did not see the home until after purchase they will say yes. Selling a home this way may have seemed unconventional just ten years ago but is getting more commonplace.
The internet and companies who develop for it are making our world more digital and changing the way we buy things including making a home purchase. Real estate websites strive to present the most correct data and in so doing have garnered the trust of the savvy internet buyer.
It is not productive for a buyer and an agent to spend a day driving around and touring homes in person when they can do the same thing virtually from their home.
For most mls systems, the quantity and quality of pictures and the addition of virtual tours has vastly improved over the last twenty years. With more agents savvy about online marketing, buyers and other agents can view any property online and get a real good idea of the layout and the condition of the home. This digital pre-visit helps to narrow down the properties that buyers want to physically visit. Agents are now doing "walk thru" videos where they walk you through the home in real time and may or may not give commentary as it happens.
The 2015 Profile of Home Buyers and Sellers reports 89% of all buyers cited an online website as an information source with real estate agents being a close second at 87%. 42% of all buyers looked online for properties for sale as the first step taken during the home buying process.
Interestingly, 87% of buyers in 2015 purchased their home through a real estate agent or broker compared to only 68% in 2001. The agent services deemed most valuable to buyers were help finding the right home to purchase (53%) and help to negotiate the terms of sale (12%) and the price (11%).
These statistics are impressive but it is still a challenge for agents to impress upon a seller how important these digital showings really have become. Because of the convenience of viewing a digital showing from anywhere you have internet, buyers and sellers save time and money. However, sellers may not realize there is activity when they don't actually see people coming through the home.
Since agents have an MLS membership and usually have a profile on ZillowⓇ, TruliaⓇ and Realtor.comⓇ they can share digital showing statistics with their sellers that will include the number of unique visitors, length of time spent on the listing site and what details of the listing were accessed. In 65% of buyers, they walked through the home they bought after viewing it online first.
Want some Insider Information on Fairfax VA homes for sale? Get a FREE Market Snapshot Report of Your Northern Virginia Home's Value, or get a FREE Listingbook Account so you can Search All Northern Virginia Homes For Sale just like a Realtor. Put that data you need at the tips of your fingers!