According to CoreLogic's Homeowner Equity Insights, Americans have seen the equity in their homes increase by 29.3% year over year in the fourth quarter of 2021. The average home equity during that time period was a whopping gain of $55,000.
This increase is a fuel that homeowners are experiencing. A fuel which is a large increase in equity not to mention home value.
So, what are homeowners doing with those funds? Some are doing cash-out refinancing and using them for many different purposes including home improvements, investing, saving for retirement, saving for college (even paying for college), or saving for a rainy-day fund.
Others are seeing this as an opportunity to move up to a home that meets more of their current lifestyle. What does that mean exactly? They might be purchasing a larger home because adult children have moved back home. Or, working remotely has made their current home not quite as ideal as it once was.
Homeowners are beginning to realize that their home is a large investment, and are willing to re-invest into a larger home that simply meets their current needs. With the increased equities and mortgage rates that are still low, they can get into a home for a relatively lower increase, plus the value of that home will still continue to increase.
How does one justify moving to a larger home? Estimate what your equity would be in your old home in a specified number of years from now, compared to selling it and buying a larger home. You'll see how the equity would grow during that time period.
Let's hit some stats. A $400,000 home appreciating at 4% annually would be worth $526,000 in seven years compared to a $600,000 home appreciating at the same rate that would be worth $789,000 in the same time frame.  This doesn't tell the whole story because the mortgage amounts are different.
The comparison in the table below doesn't show the higher payment on the larger home but can be explained by the benefits of enjoyment and practicality of having a larger home to live in during the comparison period.
Hold or Sell & Buy Analysis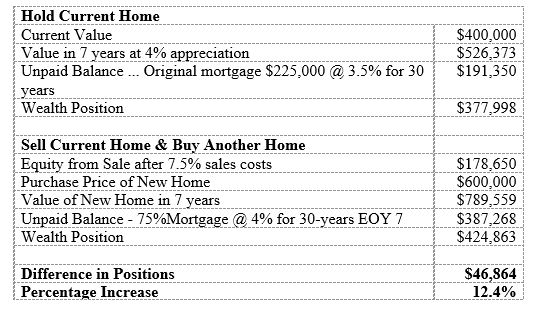 To make your own analysis, use the Hold or Sell & Buy  Contact me to find out what your home is worth or to help you with any questions you may have.
I can provide Insider Information on Fairfax VA homes for sale. Get you a FREE Market Snapshot Report of Your Northern Virginia Home's Value, or  Search All Northern Virginia Homes For Sale. Put that data you need at the tips of your fingers!