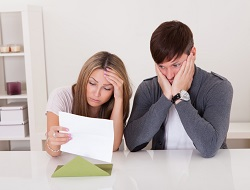 TD Bank released a recent study that says 65 percent of home buyers with a mortgage that required PMI (private mortgage insurance) stated having a higher monthly payment that was over what they had originally planned.
PMI is a requirement when your home loan exceeds 80 percent of what the home is valued. The premiums can range from 0.5 percent to 1 percent annually on conventional loans. On a $200,000 mortgage, PMI can add an additional $100.00 a month. For an FHA loan it would be over $200.00 a month.
There are two components to mortgage insurance on an FHA loan: One is an up-front charge at closing, and the second is a yearly charge. Up-front, your premium is about 1.75 percent of your mortgage and can be paid at closing in cash or added to your loan amount. However, the yearly premium is 0.45 percent to 1.35 percent, dependent on the loan-to-value amount and the term of your mortgage.
A requirement for most lenders is to cancel PMI coverage when you reach a 78 percent loan-to-value amount. But for a 30 year mortgage with normal amortization, that could be 8 to 11 years in the future, and depends on your original loan amount and the interest rate of that loan. If your home's value has increased and you can get an appraisal to document it and your current mortgage loan is below 80 percent loan-to-value, you can petition your lender to cancel the additional PMI payments.
As of April 2013, FHA started requiring PMI to be paid for the term of the mortgage loan. Their prior rule was PMI had to be paid for a minimum of five years, but you could petition to cancel if the mortgage loan was reduced to 78 percent of the original purchase price.
To avoid paying PMI and getting stuck with FHA rules, provide a minimum down payment of 20 percent when buying a home. If you do get a higher loan-to-value mortgage loan, set an objective to pay down the loan principle by making extra payments as soon as possible to relieve the requirement for PMI. Remember that mortgage loans with lower loan-to-value amounts often have lower interest rates.
Let me help you sift through the Fairfax homes for sale list to find a home that will meet your needs and not require you to have to pay PMI.