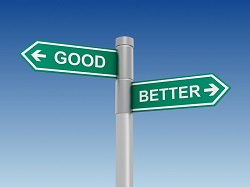 Making an offer on a home can be disappointing, discouraging and sometimes frustrating when the seller doesn't accept it or accepts another offer over yours.
Just because you made an offer doesn't mean it will be accepted nor does it mean you will get a counter offer. With low inventory levels still across much of the nation's housing markets, your strategy to writing an offer will need to change. Below are some tips that might help make your offer better than your competitor's:
Your best offer should be your initial offer. Counter offers don't always happen.
Request a pre-approval letter from your lender and submit it with your offer.
Offer up a larger than normal earnest money deposit.
Make your down payment larger. Instead of $5,000 put down $10,000.
Do not add in any unneeded contingencies.
Do not request personal property in the home that is not stated on the listing agreement.
Offer to pay for your customary closing costs.
Make the inspection period short.
Offer to buy the home "as is" but make it subject to inspection. That way if a problem is found, you can still get back your earnest money but the seller doesn't have to make repairs.
Prepare a personal hand-written letter to be submitted with your offer stating why you want to buy the home. Maybe include a family photo.
Let it be known that using the seller's or the listing agent's preferred title company is ok with you.
Paying cash for a home upfront is always a good thing if you can. Then arrange for financing after the sale, but you will need to provide a proof of funds bank letter.
Help keep the closing on schedule for as soon as you can, but let it be known that you are flexible in case the seller has an issue.
Once you have picked a home out, don't delay making an offer.
Always remember that you can ask your real estate professional for any suggestions.
Making an offer is like interviewing for a job. Good first impressions are always a bonus. You often will not know if there are multiple offers on a home, so approach it like you are in competition with other buyers – best foot forward.
If you are ready to start your search, I have homeowners with Fairfax homes for sale just waiting to hear from you. I can work with you so you can present your best offer to help you get your dream home. Contact me today!