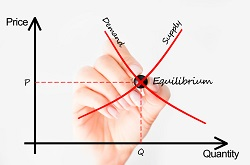 When demand for housing is high and the supporting inventory is low, we often use the term "Seller's Market." This means selling conditions are favorable for sellers and there are no adverse economic conditions that are affecting the market.
A higher amount of willing, able and ready buyers determines demand. A timing of lower interest rates with a threat of them rising higher and the threat of rising prices often fuel the buyers urgency to purchase to avoid higher costs of housing.
National housing inventory is still running below what might be considered balanced (NAR reports unsold inventory is 6.5 percent higher than a year ago) across most national selling areas. Some selling areas are experiencing quick home sales, multiple offers and offers above the asking price. When this condition exists where a lot of buyers are chasing after low inventory it increases competition and the seller becomes the beneficiary.
An adverse affect is when the appraisal on the home does not support the agreed upon price between the buyer and the seller. Depending upon how the home is being purchased or financed, the buyer may have to provide additional down payment or the price has to be renegotiated.
Most sellers want their home to sell as fast as possible with the highest profit for them. Being in a "Seller's Market" makes the opportunity of  this happening a very likely occurrence.
If you are in the market for a home, let me send you a list of Fairfax homes for sale today. With my experience of the area, I can make sure you are getting the best deal for the best price in today's market. My experience with doing Comparative Market Analysis reports and reviewing market indicators makes me uniquely qualified to help both buyers and sellers get the most from their transaction.