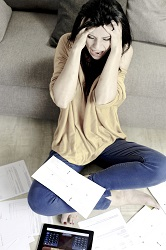 Are you one of the people who don't really care about your credit rating until you need it for a loan? If so, you are taking a chance on being denied future loans and/or delaying any decisions on financing.
A common issue is not reviewing and correcting items recorded on your credit report. There are a large majority of credit reports that have errors but not all errors are critical. Once you find an error, it will take some time to get it removed. Make it a good practice to get and review one of the free credit reports offered from Experian, TransUnion or Equifax at least once a year.
Another issue that a lot of us are guilty of is making late payments. One payment that goes 30 days late could make you pay a higher interest rate or be denied a new loan. All creditors have a due date, even if they allow a few days before late fees begin, if you don't make the payment by the due date it is late.
Another issue you might not know about is maxing out all your credit cards. The ideal situation is to have a total outstanding credit balance no more than 30 percent of your available credit. As you begin to use up that percentage, your credit score decreases.
Having bad credit can do several adverse things, keep you from getting a loan and raise the rates on your insurance. Consumer Federation of America released a study that said that people who had good credit paid less in insurance than people with poor credit. Their results indicate that some customers whose credit scores were poor paid twice as much as those whose credit scores were excellent.
If you are looking at a future move or Fairfax home for sale purchase, think about getting pre-approved with a trusted mortgage professional before you sell your current home. This will vet out any credit issues you may have ahead of time so you can work on getting them fixed. It has happened that a home seller has found that they don't qualify for another mortgage once they sell due to credit issues.
Want some Insider Information ? Get a FREE Market Snapshot Report of Your Northern Virginia Home's Value, or get a FREE Listingbook Account so you can Search All Northern Virginia Homes For Sale just like a Realtor. Put that data you need at the tips of your fingers!