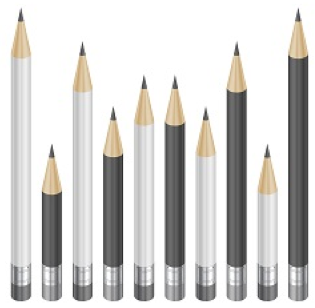 Often when we think about buying a home, we most instinctively think about a 30-year mortgage. Paying over 30 years makes our monthly payment a bit lower than choosing a 15-year mortgage and the principal and interest is pretty consistent.
For decades, homeowners believed they would always have a mortgage payment. But today with the country getting passed "The Great Recession" many homeowners are rethinking the 30-year mortgage and making plans to pay off their homes sooner.
If you can afford it, the shorter 15-year mortgage will give you a lower interest rate and allow you to build equity in your faster. A 15-year fixed rate mortgage at 3.09 percent will have a $562.42 higher monthly payment than a 30-year fixed rate mortgage at 3.87 percent.
But at the end of seven years, your equity would be $66,903.04 on the 15-year term mortgage. If we add in the difference in the higher payment, the equity would still be almost $20,000 greater. My graphic below details out the differences for you.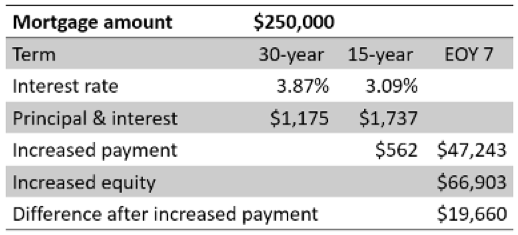 But even if you have a 30-year mortgage you can still treat it like a 15-year one. Just make double payments each month. The second payment of the month would be a principal only payment. This allows you the flexibility of skipping the extra payment for a month should the need arise without affecting your credit. I urge you to talk with a mortgage professional about both options to see which one is the best for you.
Want some Insider Information on Fairfax VA homes for sale? Get a FREE Market Snapshot Report of Your Northern Virginia Home's Value, or get a FREE Listingbook Account so you can Search All Northern Virginia Homes For Sale just like a Realtor. Put that data you need at the tips of your fingers!