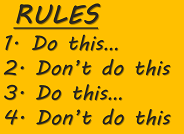 Most people agree that homeownership rules! Many people say they want a home they can call their own, to raise a family and to feel safe. Homes also account for a great part of most people's net worth. During this rebounding market period in Northern Virginia real estate, more folks are again looking toward being home owners.
Here are a few basic guidelines to help you protect your real estate investment and get the most out of homeownership:
Don't pay more for a home than you need to
Maintain your home's condition to protect its value
Minimize your assessed value to keep property taxes as low as possible
Make extra principal payments to save interest and build equity
Validate the insured value of the home's contents and any improvements
Stay current on the property values of your neighborhood
Be sure to deduct mortgage interest payments on your taxes
Invest in capital improvements that increase market value
Don't over-improve the neighborhood
Keep records of capital improvements and other maintenance
If you are thinking of selling, learn how the nation's Top Realtors sell their personal family homes for more money than their neighbors. Get my Free CD, or Free Report of the 10 Best 'Insider' Home Selling Strategies that I extracted from over 8 years on my Real Estate Radio Show interviewing the Industry's Top Experts.
If you are thinking of buying, find out how the Industry 'Insiders' Save $25,000 – $50,000 on their personal home purchases, and how you can too. Get my Free CD or Free Report Top 10 Insider Home Buying Secrets of the Wealthy. I use these same proven strategies every day.