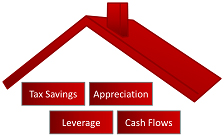 Have you been searching Northern Virginia homes for sale to find some great rental investments? Rental properties can provide a great return on investment, if you know what to look for, and what factors contribute to a successful rental.
There are four primary factors in rental properties that contribute to a good return on investment.  The importance of these factors can vary for each property owner, depending on market conditions and overall investor strategy.
At one time, a large emphasis was placed on the potential for rental property to provide a tax savings that would balance the income from other investments. In today's environment, this is more likely perceived as an incidental benefit, although it is still a factor to consider.
Investors have often counted on property appreciation to provide an acceptable return on investment, using reasonable appreciation rates. Savvy investors today are using more conservative estimates for long-term holding periods to determine a more likely return.
Leverage occurs when borrowed funds are used to control a larger asset. Positive leverage can actually increase the yield on an investment.
The fourth, and most basic, factor that contributes to a property's yield is the cash flow. When the rents are greater than the operating expenses and payments on a property, there is a positive cash flow. A property with a good cash flow doesn't have to go up in value to be profitable, and thus to justify the investment.
Today's combination of lower prices, incredibly low mortgage rates and rising rents are attracting investors to rental properties, including  single-family Fairfax VA Homes for sale that are predominantly owner-occupied.
Even without the benefits of tax savings, potential appreciation and leverage, the attractive cash flows make rental property a smart investment to add to your portfolio. If you're curious, contact me for more information.
If you are thinking of selling, learn how the nation's Top Realtors sell their personal family homes for more money than their neighbors. Get my Free CD, or Free Report of the 10 Best 'Insider' Home Selling Strategies that I extracted from over 8 years on my Real Estate Radio Show interviewing the Industry's Top Experts.
If you are thinking of buying, find out how the Industry 'Insiders' Save $25,000 – $50,000 on their personal home purchases, and how you can too. Get my Free CD or Free Report Top 10 Insider Home Buying Secrets of the Wealthy. I use these same proven strategies every day.