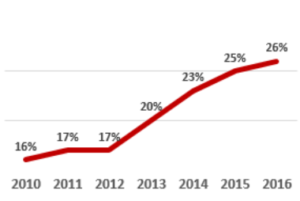 Each year the National Association of Realtors publishes the Home Buyers and Sellers Generational Trends Report. In their latest report, they state that although Millennials are becoming the largest home buying group (34%) they are facing the difficulties of rising rents, rising home prices, student loan debt and flat wages.
Today's would-be buyers feel they are not able to buy now but their fears may be based on inaccurate assumptions.
Out of ten non-owners, nine believe they need a ten percent or more down payment. But a typical down payment for a first-time home buyer is about six percent. If you qualify, the VA has 100% loan programs as well as the USDA for qualifying buyers and areas. FHA has programs for 3.5% down payments, and FNMA and Freddie Mac have low (3% and 5%) down payments.
Another option maybe a gift provision. If you have a relative that can help with your down payment by "gifting" you the money.
Another legal option is to borrow against your retirement fund if allowed. And this option may not be limited to just you. You might be able to use it for a relative who needs help too.
More important than a down payment is having good credit and sufficient income. But don't rely on "common knowledge." Get the advice of an expert to see if there is a way to make your dream of owning a home come true.
Want some Insider Information on Fairfax VA homes for sale? Get a FREE Market Snapshot Report of Your Northern Virginia Home's Value, or  Search All Northern Virginia Homes For Sale. Put that data you need at the tips of your fingers!