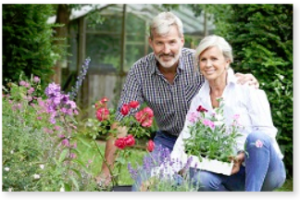 In the past homeowners had a natural progression in owning homes. They would begin homeownership with a starter home, move onto a dream home to raise a family, then downsize upon becoming empty nesters and finally moving into a retirement home to finish out their years. But recently, Marianne Cusato's 2016 Aging-in-Place report indicated that today's older generation of Americans does not plan on following the same pattern.
There seems to have been an accepted progression for homeowners going from starter home, to gradually moving into one's dream home, then, downsizing after becoming an empty nester and finally, into a retirement home. However, Marianne Cusato's 2016 Aging-in-Place Report indicates that many older Americans don't plan on following that pattern.
Cusato reports that 61 percent of current homeowners who are 55 or older are planning to stay in their current home indefinitely. These older homeowners are not worried about adding aging-related equipment to their homes and believe that their current layout is adequate. Older homeowners want to thrive in their homes and not age in their homes.
Here are some of the reasons being cited for staying in place:
66 percent say their home is conveniently located
38 percent say they live close to their family
68 percent say they feel independent in their home
54 percent say they are familiar with their neighborhood
66 percent say they feel safe in their home
Increasing use of smart home technology maybe another factor for aging in place. Sixty-seven percent of homeowners over age 55 believe smart-home tech can help them stay but fewer than 19 percent have actually considered the installation for this purpose. In the report I found these quick stats about smart-home tech..
57 percent of homeowners would consider putting in a smart thermostat,
6 out of 10 homeowners believe that smart-home tech can help them age in place,
63 percent of homeowners would consider installing a home security system,
47 percent would consider installing smart lighting.
Typical renovations that older homeowners might consider for their current home are things like grab bars in the tub or shower, shower seats, taller toilets, handheld showerheads and additional handrails on stairways.
Cusato reports a couple of reasons why older homeowners have not moved ahead with age-related upgrades:
4 out of 10 say they don't have physical disabilities,
2 out of 10 say they don't consider themselves old enough yet.
Maybe we should change the terminology from age-related renovations to convenience-related upgrades. Such an example would be adding a pot-filler faucet over your stove. This enhancement not only serves a younger cook but an older one also by providing a convenience of not having to carry large pots to the sink and back. With a bit of thought about doing these convenience upgrades you not only improve your living in the home now but in the future as you age.
Want some Insider Information on Fairfax VA homes for sale? Get a FREE Market Snapshot Report of Your Northern Virginia Home's Value, or  Search All Northern Virginia Homes For Sale. Put that data you need at the tips of your fingers!