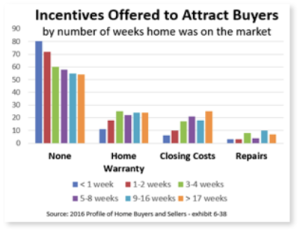 Real estate professionals all know that the longer a home is for sale, the higher the chance will be that the price will drop. Sellers tend to think their home is wonderful and will sell quick. If you have a good location, and your home is in good repair then the only other factor is "the price."
However, you can do the obvious and lower the price but what if you did something that experienced builders do? Builders will offer potential buyers various "incentives" like upgrades, seller-paid closing costs, interest rate buy downs, appliance upgrade or even large flat-screen TVs.
It's interesting that most of the real estate resale market do not regularly use any of these techniques. NAR's latest Home Buyers and Sellers Profile report says that 64 percent of sellers did not offer any incentives at all.
In the report, 21 percent offered a home warranty, 16 percent offered closing cost assistance and only 6 percent offered remodeling or repair credits.
Take a look at the provided chart, it indicates that although 80 percent of sellers did not want to offer incentives when their home first went on the market, as weeks pass closer to half of the sellers did eventually provide some incentive.
As a seller, your ideal outcome is to maximize your proceeds in the quickest time possible with the least amount of unexpected issues. To do this you need a good understanding of the local real estate market and the ability to put in place a marketing plan that will get you results. As a RealtorⓇ, this is where I can help. Contact me today for a FREE consultation.
You have too much at stake to leave anything to chance.
Want some Insider Information on Fairfax VA homes for sale? Get a FREE Market Snapshot Report of Your Northern Virginia Home's Value, or  Search All Northern Virginia Homes For Sale. Put that data you need at the tips of your fingers!