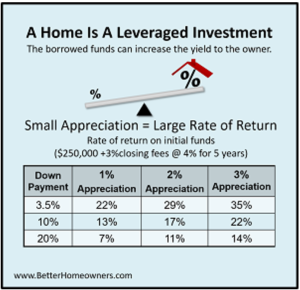 You want irony? You may think you can't buy a home right now but if you are renting you are buying a home for your landlord. Here are several factors to support this argument.
Regardless of whether a mortgage is held by an owner-occupant or an investor, they are amortized so each payment made reduces principal on that loan until it is repaid over the term of the loan. If you are a tenant, you are the one paying off your landlord's mortgage with your monthly rent payment.
Your landlord's mortgage payment which includes taxes and insurance, in most cases, is lower than the monthly rent you are paying him. So what do you think he is doing with the extra money? Experts are now warning that mortgage rates will not be this low again once they begin to rise.
If you rent then you miss out on the advantage of having a home as a leverage investment. When your investment is returning more than the cost of the borrowed funds, your ROR (rate of return) grows faster also. Take a look at my chart as it shows a 2 percent appreciation on a home can result in large returns on your down payment. There are no alternative investment scenarios that give you this ROR.
If you are leaning toward buying, you owe it to yourself to investigate further. Don't stress on down payment because there are many options out there that require less than 20 percent down. You will need to consult with a professional Lender. I can give you some referrals. Contact me today for recommendations.
Want some Insider Information on Fairfax VA homes for sale? Get a FREE Market Snapshot Report of Your Northern Virginia Home's Value, or  Search All Northern Virginia Homes For Sale. Put that data you need at the tips of your fingers!