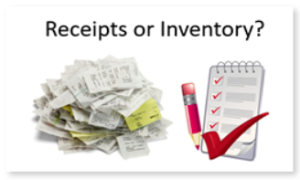 When you experience a loss of property, your insurance company will ask you for the proof of purchase which can take two forms; a purchase receipt or a current home inventory of your personal belongings.
Even if you are a highly organized homeowner, you might find it challenging to locate receipts for all the valuables in your home. And if you don't keep your inventory updated, when you make a claim you might forget to add something and may not realize it until after your claim has been settled.
Having a home inventory can serve as a guide to make sure you get compensated for all your loss.
A good source of proof is videos and photographs of items belonging to you. Pictures of rooms, closets, cabinets and drawers from different angles can be helpful. If you decide to video, consider doing commentary on items as you shoot it and go slow enough and close enough to the items that they can be seen clearly.
As a helpful tool, download this Home Inventory and fill it out as you go room to room. Then store it in an offsite location or scan it and store it digitally in a program such as Dropbox or Google Drive.
Want some Insider Information on Fairfax VA homes for sale? Get a FREE Market Snapshot Report of Your Northern Virginia Home's Value, or  Search All Northern Virginia Homes For Sale. Put that data you need at the tips of your fingers!