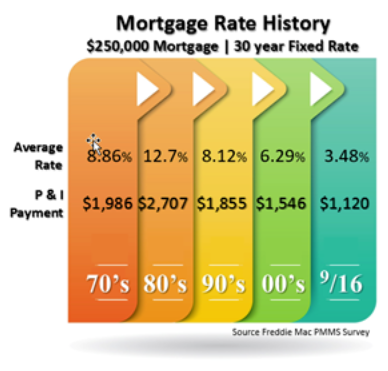 "If" interest rates go up is not the correct question. "When" interest rates go up is what you need to worry about. Because "when" those rates increase it will be a big difference for buyers and move-up buyers. Freddie Mac is predicting that mortgage rates will be at 4.5 percent a year from now.
Higher interest rates translate to higher payments. Higher payments means less money to spend on entertainment, new cars, new furniture or even home improvements.
For a $250,000 home, when the interest rate increases by .50 percent, your monthly payment goes up by $70.66 per month. If the interest rate increases to 1.00 percent, your monthly payment goes up by $143.74. The equals an additional $50,000 more for the home.
If you are not ready to commit now, how will you feel about living in that same house at a later date knowing you are paying more money for it?
Another example is a buyer who is maxed out on their qualification amount or a buyer who does not want to pay a higher payment. A higher interest rate of .50 percent requires them to make a large down payment of $14,873. This factor could make this purchase impossible or could drive you to look for a home which is less than what you wanted.
Don't get lulled into the belief that mortgage rates have been low so long that they will stay that way. Some of our economists believe that the U.S. economy won't be strong again until mortgage rates are back up to around 7 percent.
Want some Insider Information on Fairfax VA homes for sale? Get a FREE Market Snapshot Report of Your Northern Virginia Home's Value, or  Search All Northern Virginia Homes For Sale. Put that data you need at the tips of your fingers!