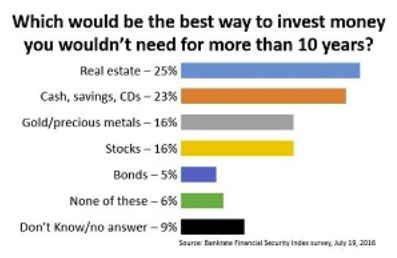 As identified in a recent survey*, Americans picked real estate as their overwhelming choice for investing. This is in spite of the Dow Jones industrial average reaching record highs recently. Stock came in as a third choice.
Upon analysis of the recent survey*, it suggested that homes are more popular because they are a tangible asset. Whereas with stocks and bonds, your assets are not so tangible and you investments not so clear.
Investing in homes has several distinct advantages over other investment alternatives.
High loan-to-value mortgages available
Fixed interest rates (relatively low right now)
Longer periods of time
Appreciating assets
Definite tax advantages
And you have reasonable control.
A distinct advantage to investing in rental homes is that most people understand and are comfortable with them. Rental homes are the same type of property (in general) that you live in. It is easier to understand the key factors like home value, appreciation, rent payments, home maintenance and financing.
Want some Insider Information on Fairfax VA homes for sale? Get a FREE Market Snapshot Report of Your Northern Virginia Home's Value, or  Search All Northern Virginia Homes For Sale. Put that data you need at the tips of your fingers!
*http://www.bankrate.com/finance/consumer-index/financial-security-charts-0716.aspx