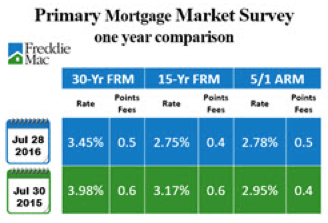 As we live our lives it seems that change is the only constant in them. There was a lot of speculation last January that interest rates would increase right beside home prices. And while it is true that home prices have increased in most U.S. markets over the last five years, mortgage rates today are lower that they were a year ago.
So let's look at some numbers. If current interest rates were to increase by 1 percent over the next year and homes kept appreciating to 6 percent during the same time, a $250,000 home would increase in value by $15,000 and the monthly payment would be $211.53 more each month for the length of the mortgage. This increase would add up to $17,769 over the next seven years.
Ask yourself this, if you decide to postpone buying a home until next year, "how would it feel to buy the same home but have to pay more per month to live in?"
You can easily understand a 6 percent rise in home price on a $250,000 home increases the price $15,000. A little bit more difficult concept to realize is that if the interest rate were to go up by ½ percent, it would be approximately equal to a 5 percent increase in price. An increase of 1 percent in mortgage rates would approximately equal a 10 percent change in price. Meaning that if the home price goes up by 6 percent and the interest rate increases by 1 percent it would be equivalent to the home price increasing by a bit more than 16 percent.
Want some Insider Information on Fairfax VA homes for sale? Get a FREE Market Snapshot Report of Your Northern Virginia Home's Value, or  Search All Northern Virginia Homes For Sale. Put that data you need at the tips of your fingers!