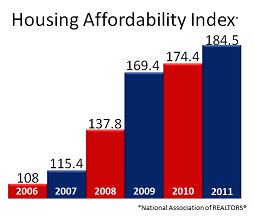 The Housing Affordability Index is a tool that provides homebuyers with information about the best time to buy a home for the least relative expense. The index includes the northern Virginia real estate market as well as the rest of the country. The index is also broken down into four regions of the country to include local market variables.
The National Association of Realtors' economic department has recently released figures showing that the 2011 calculation is the highest in the index's thirty-year history. The most recent month released, December 2011, was 194.9.
The two key factors measured in the index are home prices and mortgage interest rates. Both of these components are at their lowest since 2006, causing a measurable increase in the index, and a better sign of home affordability. An index score of 100 or above is considered beneficial to the buyer, with median priced homes being affordable to median income families.
What does the Housing Affordability Index really mean to consumers as they consider homes for sale in northern Virginia? It is yet another indicator that this is a good time to buy a home; maybe the best opportunity we will ever see. If you have good credit and a down payment, consider taking advantage of the market conditions now.
If you are thinking of selling, learn how the nation's Top Realtors sell their personal family homes for more money than their neighbors. Get my Free CD, or Free Report of the 10 Best 'Insider' Home Selling Strategies that I extracted from over 8 years on my Real Estate Radio Show interviewing the Industry's Top Experts.
If you are thinking of buying, find out how the Industry 'Insiders' Save $25,000 – $50,000 on their personal home purchases, and how you can too. Get my Free CD or Free Report Top 10 Insider Home Buying Secrets of the Wealthy. We use these same proven strategies every day.