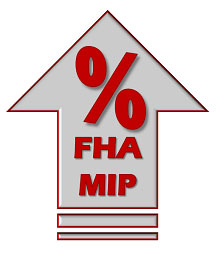 Beginning April 1, the FHA will raise the annual Mortgage Insurance Premium (MIP) to 1.25% of the loan amount. MIP is a requirement on all FHA loans, and covers lenders when borrowers default on their mortgages. Also, starting June 1, the premium on high dollar FHA loans (larger than $625,500 in high-cost areas) will increase to 1/5% of the loan amount.
Additionally, the FHA intends to increase the up-front MIP from 1.00% to 1.75% of the loan amount. The implementation date has not been announced at this time.
The bottom line for buyers of Northern Virginia real estate is that there will be an increase in monthly payments to cover these fees. However, MIP may not be the only reason for the increase. Freddie Mac's Primary Mortgage Market Survey reveals that both 30 year and 15 year mortgage rates are also on the rise.
If you are and FHA buyer in the process of looking at homes for sale in Northern Virginia, the best way to ensure you avoid the additional fees is to choose your new home as soon as possible! Your lender will need a completed sales contract to order the FHA commitment prior to April 1, 2012 for you to enjoy the current MIP rates.
If you are thinking of selling, learn how the nation's Top Realtors sell their personal family homes for more money than their neighbors. Get my Free CD, or Free Report of the 10 Best 'Insider' Home Selling Strategies that I extracted from over 8 years on my Real Estate Radio Show interviewing the Industry's Top Experts.
If you are thinking of Buying, find out how the Industry 'Insiders' Save $25,000 – $50,000 on their personal home purchases, and how you can too. Get my Free CD or Free Report Top 10 Insider Home Buying Secrets of the Wealthy. We use these same proven strategies every day.