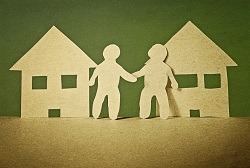 So you just moved into a new neighborhood and everyone around is a stranger. Having good neighbors is a matter of doing good deeds and reciprocating when you can. Trusting people to pick up your mail or water your plants when you are out of town is trust that needs to be built upon.
Most of us can only name one or two of our neighbors with whom we can trust these types of activities. But it would be nice if more neighbors who lived close to you could be trusted this much.
The beginning to the solution is being a better neighbor yourself first. Read through my suggestions below on how you can improve your neighborhood and make friends with your neighbors at the same time.
Make the effort to meet your neighbors and exchange contact information. Use your Smartphone to send them your contact record. With a click they can have your info.
Make an agreement to let each other know about suspicious activities near your homes.
Big friend maker: drive slowly through your neighborhood; it makes your neighborhood safer and neighbors with children will appreciate it.
Always be in control of your dog: walk it on a lease, try to control its barking and pick up after it outside of your yard.
Be courteous, don't block or park in front of your neighbor's home.
If it's time to remodel, let your next door neighbors know. Ask them to let you know if the contractors cause any damage to their property.
Party time? Notify your neighbors so they know to expect more cars and traffic than normal. Invite them over if appropriate!
Curb appeal is everything, even when you are staying in your home. Be proud of your home and keep up the yard and exterior. Makes the neighborhood look attractive.
It's garbage day! Put out containers in the morning and bring them in at night. Nobody likes to see garbage cans left outside all the time.
Most of these items are common sense. Goes back to the old saying "Do unto others as you would have them do unto you." Show your neighbors respect, friendship and make the offer of a helping hand when they need it. Creating a sense of community with just a few can spread to a few more. Pay it forward!
Need a neighborhood? Let me send you a list of Fairfax homes for sale and I can help you pick who your future neighbors might be.