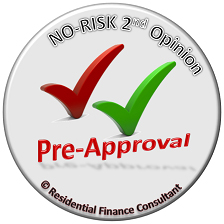 All good real estate agents showing buyers homes for sale in Northern Virginia will agree that the benefits of having a lender's pre-approval are undeniable. It is good for everyone involved in the home buying process; buyers, sellers and agents. It saves time and money and gives confidence that the buyer is ready to purchase, and not just browsing.
Some direct benefits include:
Easier to focus on best homes for buyer – right price range and location
Shop for best loan early – have idea of rates, term and type
Uncover credit issues early – time to cure possible problems
Bargaining power for buyer – price, terms, & timing
Close more quickly – verifications have been made
There a big advantage to sitting down with a trusted mortgage professional over using calculators on a website. The cost of being pre-approved is usually limited to the credit report fee, and is worth every penny considering the amount of buying power you gain.
Even if you have been pre-approved, it can't hurt to get a second opinion from a different lender as well. It will either confirm that you have a good deal or you may find a better one. Either way, it works to your advantage. Contact me if you'd like a recommendation, and are ready to find your new home in the Northern Virginia real estate market.
If you are thinking of selling, learn how the nation's Top Realtors sell their personal family homes for more money than their neighbors. Get my Free CD, or Free Report of the 10 Best 'Insider' Home Selling Strategies that I extracted from over 8 years on my Real Estate Radio Show interviewing the Industry's Top Experts.
If you are thinking of buying, find out how the Industry 'Insiders' Save $25,000 – $50,000 on their personal home purchases, and how you can too. Get my Free CD or Free Report Top 10 Insider Home Buying Secrets of the Wealthy. I use these same proven strategies every day.