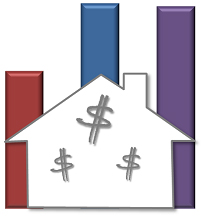 The Northern Virginia real estate market has been heating up this summer, and loan interest rates have stayed low, so you may be considering buying a new home, refinancing or getting a home equity loan. In any of those situations, knowing the current value of your home is important. Home values are best determined by recent sales and the supply and demand of properties currently on the market.
To help establish your home's market value, comparable properties must be selected with similar features such as bedrooms, baths, square footage and updates. Also, you must include several other factors that will affect the value of your home.
Location plays the most significant role. Desirable features of a certain neighborhood, such as close proximity to schools, highways, shopping and public transportation, will add value to your home. Detrimental features, such as high traffic, high-powered electric lines and commercial zoning, will affect your home's value negatively.
To receive a computerized estimate on the value of your home that includes prices of comparable homes that have sold recently and homes currently for sale, click here.
Contact me if you are interested in receiving a computerized estimate of your home's value, including comparable homes that are on the market or have recently sold.
Property values are not based solely on comparable home prices. There may be other considerations for your particular Northern Virginia home. If you have questions after you receive your report by email, let me know and I'll be happy to go into more detail with you.
If you are thinking of selling, learn how the nation's Top Realtors sell their personal family homes for more money than their neighbors. Get my Free CD, or Free Report of the 10 Best 'Insider' Home Selling Strategies that I extracted from over 8 years on my Real Estate Radio Show interviewing the Industry's Top Experts.
If you are thinking of buying, find out how the Industry 'Insiders' Save $25,000 – $50,000 on their personal home purchases, and how you can too. Get my Free CD or Free Report Top 10 Insider Home Buying Secrets of the Wealthy. I use these same proven strategies every day.