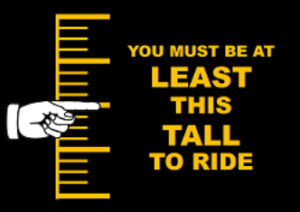 Remember when you were a young child, at an amusement park waiting in line to ride a most exciting ride and then you see the sign "you must be this tall to ride" and find out you don't measure up?
The disappointment and embarrassment you felt helped you decide that you didn't want that to happen again.
A situation similar to this can occur when people are buying a home. You find the right home, negotiate a contract and then find out you don't measure up financially. No one wants to go this this disappointment and embarrassment.
So there is a simple solution, go visit with a trusted mortgage specialist and get pre-qualified before you begin your home search. Here are some benefits:
You'll find out your credit score which directly affects the mortgage rate you get.
You may uncover some blemishes on your credit that might be corrected.
You'll even get a pre-approval letter that you can submit with an offer which might give you a leg up on the competition. Especially in a competitive market.
After you grow up a bit you find that some rides aren't what they are hyped up to be. Don't be disappointed. Let me recommend a trusted mortgage professional to you.
Want some Insider Information on Fairfax VA homes for sale? Get a FREE Market Snapshot Report of Your Northern Virginia Home's Value, or  Search All Northern Virginia Homes For Sale. Put that data you need at the tips of your fingers!