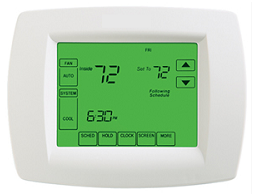 Here is another easy way we can save money as homeowners of northern Virginia real estate: automatic thermostats. With automatic thermostats, it is easier to regulate our home temperatures efficiently, saving time and money without sacrificing our heating and cooling comfort levels. They are especially useful in multi-zoned homes, where you can control temperatures in different parts of the house at different times of day without having to run around and manually make changes.
You can choose from several types of programmable thermostats that can automatically adjust temperatures at certain times of the day or week. If there is a temporary adjustment you want to make, the programming can be overridden without changing the regular schedule. Some will even alert you when it is time to change your filter.
For an even higher-tech edge, you can purchase a Wi-Fi enabled thermostat and remotely adjust the temperature from any internet-connected device, such as a laptop or Smartphone. You can control your thermostat from a different floor, or even a different city! It would be especially nice on a cold winter day, when you can turn up your home thermostat from your car on your way home from work, and walk in the door to a cozy temperature.
Automatic thermostats are reasonably priced at under $100, an amount you should quickly recoup with lower utility bills. You can install fairly easily if you are a do-it-yourselfer, or you can have a heating and cooling professional install it for you.
Buyers, keep your eyes open for this little extra comfort as you visit homes for sale in northern Virginia.
If you are thinking of selling, learn how the nation's Top Realtors sell their personal family homes for more money than their neighbors. Get my Free CD, or Free Report of the 10 Best 'Insider' Home Selling Strategies that I extracted from over 8 years on my Real Estate Radio Show interviewing the Industry's Top Experts.
If you are thinking of buying, find out how the Industry 'Insiders' Save $25,000 – $50,000 on their personal home purchases, and how you can too. Get my Free CD or Free Report Top 10 Insider Home Buying Secrets of the Wealthy. We use these same proven strategies every day.