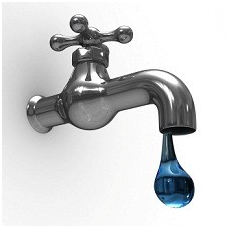 Are owners of Fairfax, Va homes throwing money down the drain? It is possible that plumbing issues could be causing us more than we know. Here are a few tips on keeping up with the plumbing on your Northern Virginia real estate, and keeping the extra dollars in your pocket.
You can conserve water to be "green" and to save "green" on your monthly water bill. Seemingly small plumbing issues can contribute a great to a large water bill.
Leaky faucets can waste over 1,000 gallons a year
Leaky toilets can waste up to 7,000 gallons a month
A five-minute shower uses less water than a tub bath
Water running while you brush your teeth or shave adds up
Sprinkler heads need to be adjusted to spray on the yard only
Pool equipment can be a hidden source of wasted water
Not having a rain sensor on sprinkler system wastes water
A larger than normal water bill can be your first indication you have a leak or other plumbing problem. Here's how to track it down:
Turn off all the water faucets and appliances, including the ice maker.
Open the water meter, usually located near the sidewalk in the front of the house. You may need a water key that can be purchased from a home improvement store.
Locate the dial that measures water usage. It should not be moving since all of the water is off. If it is still moving, re-check that you have turned off anything that might be using water.
If it appears to be still, make a mark with a permanent marker and wait 15 minutes. If the flow indicator has moved, you probably have a leak.
Now that you've confirmed that you have a leak, you may need help in locating it. A plumber may be able to help you find and repair it.
If you are thinking of selling, learn how the nation's Top Realtors sell their personal family homes for more money than their neighbors. Get my Free CD, or Free Report of the 10 Best 'Insider' Home Selling Strategies that I extracted from over 8 years on my Real Estate Radio Show interviewing the Industry's Top Experts.
If you are thinking of buying, find out how the Industry 'Insiders' Save $25,000 – $50,000 on their personal home purchases, and how you can too. Get my Free CD or Free Report Top 10 Insider Home Buying Secrets of the Wealthy. I use these same proven strategies every day.