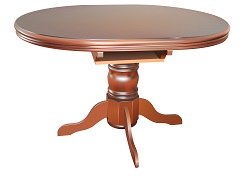 A short story about an offer presented to a single, senior woman who was relocating to a retirement home: The offer was for full price and had reasonable terms and timelines. The seller would not accept it. As the offering agent delved deeper into why, the agent discovered the seller was upset about her dining room table.
Turns out it was a very sentimental piece. It was the first nice piece of furniture that she and her husband had bought, and they had spent their lifetime eating, discussing and making important life decisions at the table. The seller was worried about the table being handed over to strangers that wouldn't care about it.
So the agent had an idea. She talked to the elderly seller about donating the table to a local church that had already given home to a lot of beautiful tables like hers in their community room. If that sounded like a good idea, the agent would call the church to see if they wanted the table. Once a loving home was found for the table, the sale was completed without any problems.
Now that there is lower inventory across the nation and demand for specific price ranges has increased, multiple offers are now becoming more popular. Sellers are now faced with decisions and dilemmas about which offers they should accept, and price might not be the only factor.
Another thing to consider is that sellers don't like to temporarily relocate when selling their home unless it is company paid. They need to use the equity gained from selling their home to purchase another one. If buyers are flexible about closing and taking possession on homes, they often get their offers viewed first.
Reassure your sellers that as a buyer you will perform as the contract is written. Eliminate as many contingencies as possible. This will make your seller more comfortable and confident that the home will close on schedule.
Buyers should have completed credit reports and be pre-approved for their loan. Don't rely on a loan officer's opinion.
Every transaction has a unique dynamic. Each party has infinite priorities and values. The art comes when the entire transaction, and variables are brought together to create a mutually acceptable offer with terms, price and conditions all agreeable. This is when you need an experienced Realtor® who can help out and work toward a successful outcome. If you are ready to buy I have homeowners with Fairfax homes for sale ready to sell to you. Contact me today!