Of 50 million homeowners it is estimated that 7 million of them could save money each month if they refinanced their existing mortgage. One obvious saving is refinancing at a lower mortgage rate. Another saving is that if you bought a home before 2011 and your are paying for mortgage insurance, you might want to see if refinancing will help you eliminate the mortgage insurance. Even if you didn't get a lower loan rate, the savings you would see by eliminating the mortgage insurance could save you hundreds of dollars each month.
If you purchased a home after 2011 it may have appreciated enough that you can justify refinancing to eliminate the mortgage insurance. Once your loan-to-value reaches 80 percent or more, mortgage insurance is not required. There are also some programs for 90 percent mortgages that don't require mortgage insurance. This option is worth investigating with a trusted mortgage professional.
A quick comparison; paying mortgage insurance each month when you might not have to is like having a broken cell phone that you can't use or need but you continue paying on it anyway.
If your existing mortgage is older than 2011, you can save money by refinancing for a 15-year term instead of another 30 years. The money saved by getting a lower interest rate could assist you to retire your mortgage loan in less time and get your home paid off before retirement. Here is a quick graphic of where 30-year interest rates are now.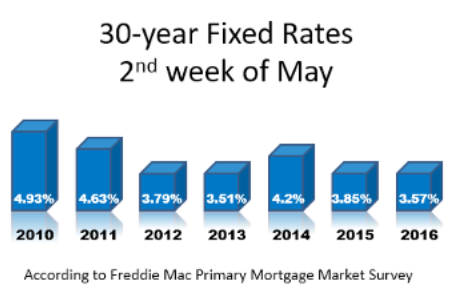 Want some Insider Information on Fairfax VA homes for sale? Get a FREE Market Snapshot Report of Your Northern Virginia Home's Value, or  Search All Northern Virginia Homes For Sale. Put that data you need at the tips of your fingers!