When you are saying that the Fairfax VA Real Estate market has a low inventory it depends on what you are comparing it too.  Are you comparing it to the number of total homes that were on the market last year at the same time?  Are you comparing it to homes in a price range? Or even homes in a certain area?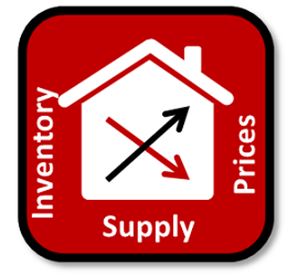 The Fairfax VA Real Estate market will fluctuate depending on price and area of the property.   A 6 month supply of property is considered to be a balance market by that National Association of REALTORS®.   If homes sell faster than 6 months it is usually considered to be a seller's market.  Likewise, if homes take longer than 6 months to sell then it would be considered a buyers' market.
Everyone knows that supply and demand affect price.  When we had the so called "Housing Bubble", the demand decreased so much that the supply increased to 4 million houses or more.  The prices of homes took a beating.    Also, the increased inventories of foreclosures, short sales, bank refusing to loan and the home building industries lack on new housing starts all contributed to very low home prices.
Since that time the economy has improved and banks have started to lower requirements, interest rates have stayed low and foreclosures have slowed.  The inventory has been reduced now to approximately 2 million homes.  When the demand is at a constant level and the inventory is reduced, home prices trend upwards.   This is because you have the same number of buyers trying to buy less number of homes.
Mortgage rates are now climbing each week in 2013 and the consumer confidence level is going up.  This means that the Fairfax VA Real Estate market has been having an increase in demand.   Buyers are now noticing that home prices are increasing.
Spring is almost here and that is the normal busy time of year.  Home prices are going up and inventory is dropping, so it is time to decide what you want to do before it is too late.
If you're curious to know what inventory conditions are for your specific market, send an email to me at thierry@thierryroche.com with the price range and area and I'll send you a report.
For a FREE report on CD of the 10 Best 'Insider' Home Selling Strategies http://www.allfairfaxvahomesforsale.com/ that I extracted from over 8 years on my Real Estate Radio Show interviewing the Industry's Top Experts.
Get my FREE report on CD of the Top 10 Insider Home Buying Secrets of the Wealthy on How to save $25,000 to $50,000.  http://thierryroche.inside-real-estate.com/save-tens-of-thousands-guaranteed/.  We use these same proven strategies every day.