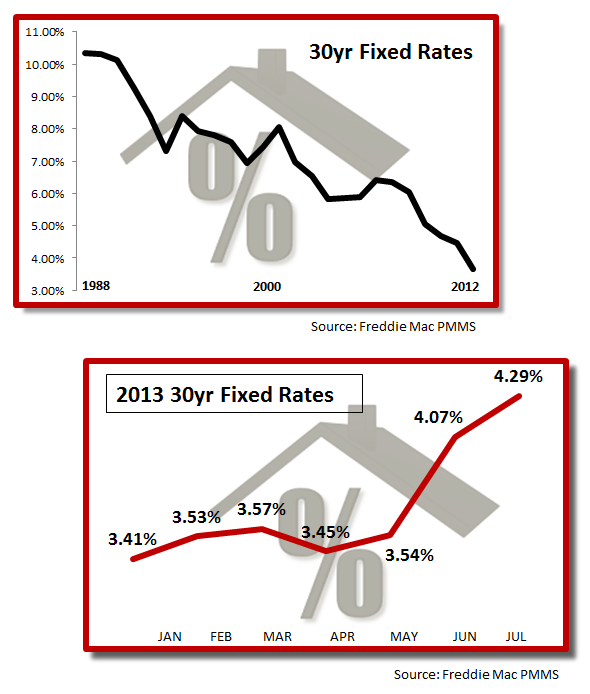 Housing affordability is a concern for would-be homeowners with interest rates and home prices on the rise. If you are renewing your certificate of deposit, rising interest rates are great, but not when you are borrowing money.
A general rule of thumb is that yours or your family's housing payment should not exceed twenty-eight percent of your monthly gross income. While mortgage rates soared last month, home prices and rental rates have been increasing in a consistent manner. Freddie Mac Primary Mortgage Market Survey reports that in one week, rates jumped up by .5 percent.
Unless your income has been increasing at an equal rate to mortgage rates, you will have to pay more of your income for housing. Closing a $200,000 mortgage during July will cost you $100 more per month than if you had closed in January 2013.
If the mortgage rates only increase by .5 percent when you close on a $200,000 mortgage, your payments would be increased by $60 per month. If you wanted to keep the payments the same, it would require an additional $11,000 down payment to lower the total mortgage amount.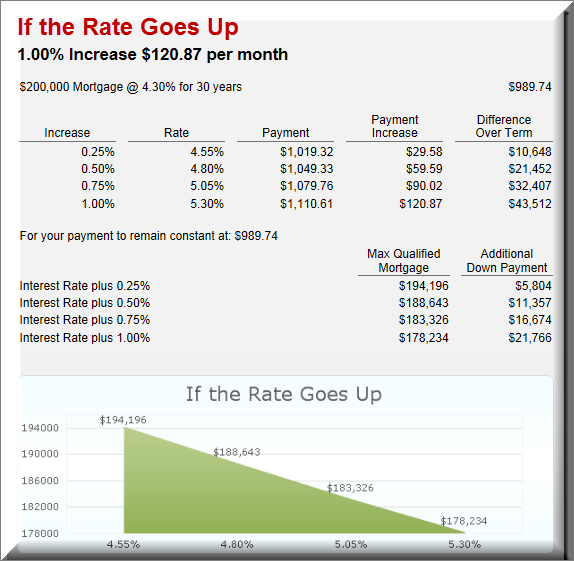 The chart above shows how your payment is affected if interest rates keep rising.
NAR or the National Association of Realtors® currently suggests that today's housing is more affordable than it was a year ago. With the many variables in play which include inflation which we did not address here, I can't tell you how long housing will remain "affordable".
The moral of the story is that interest rates are on the rise. Who knows how quickly they will rise or at what rate. Take advantage of the still low rates and buy one of those Fairfax homes for sale you have been coveting. At the end of the year, that same house could cost you $10,000 or more in mortgage than if you bought today.