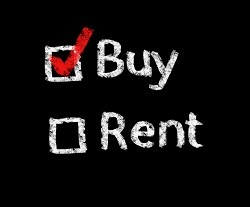 We often debate with ourselves between the decision to rent a home or buy a home for our family. Popular online real estate marketing service Zillow recently released their 2014 housing projections. In their report, Zillow projects the cost of renting or buying is increasing. They project national home prices to rise by 3 percent, by the end of the year mortgages will be at 5 percent and the rent you are debating paying will rise by an average 2.5 percent.
The above being stated, whose mortgage do you want to pay? Yours or your Landlords'? Either way you will be paying a high payment. If you are buying your Landlord's home, you will not benefit from the appreciation or the equity build-up.
Let's look at the numbers on a $200,000 home. Assume it was bought with a 4.3 percent 30 year FHA  mortgage. Let's also add 3 percent appreciation and a tenant paying $1,750 in rent each month.
Your monthly home payment (principal, taxes, interest & insurance) would be around $1,609. Now factor in benefits due to principal reduction, savings on taxes and increase in maintenance costs. Your net cost is around $630 a month.
Now, let's ignore any tax savings you might gain, your net cost would still be only $919.06 a month. As a tenant, you would pay the current market rent which in most cases is a lot higher. Thus allowing your Landlord to pocket the extra cash. Here we see that buying a home gives you the advantage of having a great financial asset that renting the home won't convey.
So, let me send you a list of Fairfax homes for sale and get you into owning your own home. Stop paying your Landlord's bill and giving him your spending cash. With my years of experience, I can help you navigate the waters to home ownership. Call me for a consultation today @ (703) 303-4010.