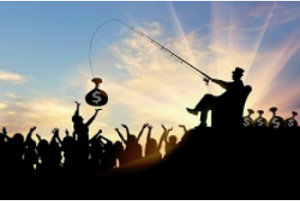 Lenders and Mortgage companies will often publish "teaser" rates to draw buyers but these rates are not always available to all buyers.
Let's review a sample situation. Suppose a monthly loan payment for an advertised rate convinced you to make an offer on a home for sale. And then after you negotiated and signed a binding contract, you make a loan application and find out you don't even qualify for the advertised rate or that rate is not available.
Even if you did qualify for the same loan but at a higher interest rate, it will not be the same monthly payment you were expecting to get.
To get you qualified for a loan, lenders use many factors like your credit score, your debt-to-income ratio and loan-to-value ratios. Lenders use this data to assess your ability to repay a mortgage loan.
Lenders put up the money for you to buy a home on the basis that you will repay it over time for a length up to 30 years.
To avoid being surprised, saddened or even depressed about a loan rate result, get a pre-approval before you begin looking for a home. With a pre-approval it is like setting a budget ahead of time. Once you know what loan amount you qualify for and what monthly payment it will be, you can be more confident in finding the right home and making the right offer.
Be aware that pre-approval does not mean the same thing to all lenders. I can offer you a recommendation of a trusted mortgage professional who will give you personal attention and get you the right numbers.
Want some Insider Information on Fairfax VA homes for sale? Get a FREE Market Snapshot Report of Your Northern Virginia Home's Value, or  Search All Northern Virginia Homes For Sale. Put that data you need at the tips of your fingers!