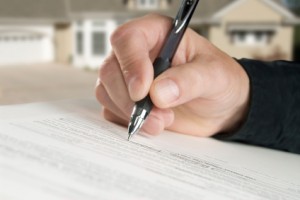 Most people buying Fairfax VA homes for sale know about the down payment required for the purchase. However, there are some who are unaware of the additional closing costs involved, which can amount to as much as 3% to 4% of the sales price, making it a considerable expense.
There are 2 good ways to save money on closing costs. The first one concerns your lender's title insurance and homeowner's title insurance. Note that these are different from your homeowner's annual hazard insurance, which is a part of the normal monthly mortgage payment.
The lender's title insurance is a one time, upfront fee that can go to as much as $10,000. Typically, it can be anywhere from $1,000 to $3,500 for average-priced Fairfax VA homes for sale. This insurance protects the property title from past problems and defects. It's required by the lender in order to safeguard the money they loaned the buyer from such problems.
On the other hand, the homeowner's title insurance is recommended to cover your personal equity interest in Fairfax VA homes from the present up to the indefinite future. Some feel that lender's title insurance is enough and try to save by skipping on getting this, but don't do that since you're not personally covered.
So, how can you save on these insurance costs? You can request a reissue rate on the seller's existing title insurance policy which was bought during their original purchase. Through contract negotiations when purchasing the house, you can convince the title/escrow company or the settlement attorney to grant this reissue rate. Most would not like to do this, since it can decrease their commission, but they will if you know the right people or are represented by the right buyer's agent.
Doing this can let you save 30% to 40% of the title insurance costs, so for the typical $2,500 title insurance fee, you can keep $750 to $1,000 right at the bat. That's a great start on your purchase savings!
Learn more about another good way to save on closing costs for Fairfax VA homes for sale in the next post!
~
Thierry is a Real Estate Agent at RE/MAX Premier, and Host of Talk Radio's, "Inside Real Estate"
Thierry & his team Guarantee a $25,000 minimum savings for Northern VA Homebuyers by applying his unique insider techniques & strategies that he discovered throughout 8 years of exclusive Radio Interviews & Insider Access to wealthy Real Estate Insiders, Investors & Top Industry experts.
Phone: (703) 222-6714.
Copyright 2010 Inside Real Estate, LLC. All Rights Reserved.