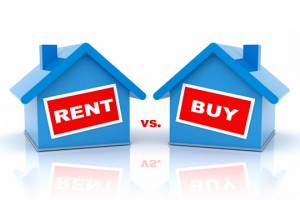 The debate rages on – should I rent or should I buy, and there are compelling arguments for both sides, especially in the wake of the recent housing market meltdown.
With a lot of homeowners displaced out of their homes due to short sale or foreclosure, they have had to turn to renting in the short term, causing rents to rise.
At the same time, the housing market is starting to rebound, some home prices are rising as well.
But the reality is that the cost to rent has gone up way more than the cost to buy, and in the top 100 metro areas in the country, the numbers prove that it is more  financially beneficial, to buy.
The benefits of home ownership are huge.
You become a member of a community
You get an interest write off on your taxes
You get a property tax write off
You are buying your own home – not buying your landlords home for him
You are gaining equity as the home appreciates and your pay down your principal
Mortgage rates are at an historical low right now
Home ownership is the American dream, there's a strong emotional component to owning your own home, not to mention the security of not being at the whim of a landlord, and the ability to do with and improve the property as you will.  There are plenty of Fairfax VA Homes for Sale that can meet your financial and emotional needs in a home
Fairfax VA Real Estate is rebounding, and now is the time to buy, while prices and mortgage rates are still low.
For a FREE report on CD of the 10 Best 'Insider' Home Selling Strategies that I extracted from over 8 years on my Real Estate Radio Show interviewing the Industry's Top Experts.
Get my FREE report on CD of the Top 10 Insider Home Buying Secrets of the Wealthy on How to Save $25,000 to $50,000. We use these same proven strategies every day.