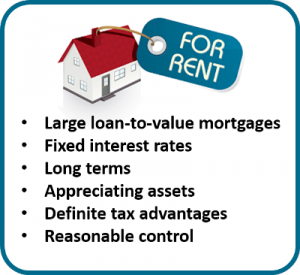 When you have children, one of the more important things for their future is planning for their college education. Here is a look at two different ways to save; a savings account or an investment in real estate.
For my example, let's assume you have a five year old child and that you will begin to put $250 per month into a savings account for college. This account earns 2% so in 14 years you would have $44,497.41 for college. However, this will not be enough so you will have to save an additional $500 a month to get $88,995.
Another option on the savings side is to make a lump sum contribution of $20,000 right now in a mutual fund that earns 5% so you will have $37,713 in 13 years. But that leaves $47,196 single contribution to get the same $88,995 above.
A good alternative the savings accounts would be to invest in a $100,000 home in a good neighborhood. If we assume at least three percent appreciation and paid rent of $1,000 a month, your initial investment of $23,500 would net you $83,838 or more in 13 years.
Looking at the recovery that is happening across the U.S. today in the real estate market, investing in rental property is definitely a plus. With inventory still low, current buyers may decide to rent for a bit before they make their purchase.
When you factor in depreciation, equity build-up, appreciation, leverage and monthly income, rental homes just become an IDEAL investment. There is a bit more management and risk with a rental home as compared to a savings account but the possibility of a higher rate of return is an acute possibility.
Contact me today if you are interested in finding out more about buying a Fairfax home for sale to use as rental property. We can go over the pros and cons and see how owning investment property fits into your college fund or retirement portfolio.
Want some Insider Information ? Get a FREE Market Snapshot Report of Your Northern Virginia Home's Value, or get a FREE Listingbook Account so you can Search All Northern Virginia Homes For Sale just like a Realtor. Put that data you need at the tips of your fingers!