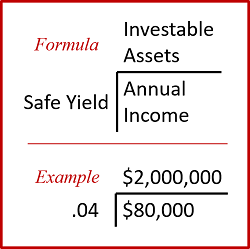 You would be shocked to hear just how many people have spent more time on vacation planning or mobile phone purchases than they have on planning for retirement. These same people are probably expecting that Social Security will support them through their golden years. It can be assumed that a single person who has paid the maximum into social security could receive about $30,000 a year when they retire.
Each working adult needs to go to the social security website and find out what monthly payout to expect when they retire.  Since it probably won't be an amount that will help you retire comfortably, you will at least know how short you will be and be able to set up an investment plan.
You can use an easy rule of thumb to estimate the investable assets you need by retirement to generate the income you are expecting. You target annual income is divided by a safe, conservative yield to determine what investable assets you will need.
If you wanted an annual retirement income of $80,000 from a 4% investment, you would need investable assets of $2,000,000. If you have $500,000 presently, you would need another $1.5 million by retirement. Thus, you would need to save around $100,000 annually to retire in 15 years.
Although this may be a daunting amount to save, an IDEAL alternate can be rental home investment. Being familiar with owning a personal residence can reduce the risks of owning rental property. You will also benefit from other bonuses like extra income from the renters, depreciation in the form of tax shelter, equity that builds as the loan amortizes, appreciation of the property and leverage from the borrowed funds controlling a larger asset.
Seasoned investors will buy rentals in good condition in neighborhoods that are mostly homeowner properties then have the tenants retire the debt for them. Single family rental homes offer investors the opportunity to meet their retirement and financial goals by investing in something easily controlled and understood.
Using a retirement projection or retirement investment calculator can give you an idea of how many rental homes you would need to supplement your social security and other retirement investments. If you need professional help, contact me today for a referral. And then let's get busy finding you some investment property.
Want some Insider Information on Fairfax VA homes for sale? Get a FREE Market Snapshot Report of Your Northern Virginia Home's Value, or  Search All Northern Virginia Homes For Sale. Put that data you need at the tips of your fingers!